15mar3:00 pm8:00 pmJurassic Quest
Event Details

Step back into prehistoric times as Jurassic Quest makes its way to the Oklahoma State Fair Park. Experience what it would be like to exist among the living, breathing dinosaurs with Jurassic Quest's highly realistic replicas of these ancient creatures. Working with paleontologists, Jurassic Quest has made each dinosaur with painstaking detail, down to every feather and scale.

Head to Oklahoma City to see this exciting exhibit full of dinosaurs that move, walk around and even play with guests (baby dinosaurs have been known to be especially silly). After interacting with Jurassic Quest creatures, guests can dig up fossils like a real paleontologist. If you're feeling daring, take a ride on the back of a 24ft T-Rex, or the spiky Carnotaurus.

This event is as fun as it is educational, so bring the entire family for a memorable day with Jurassic Quest.
AMENITIES
Highway Corridors (within 5 mi.): 
I-35, I-40, I-44, US-270
HOURS
Friday: 
3:00 pm - 8:00 pm
Saturday: 
9:00 am - 8:00 pm
Sunday: 
9:00 am - 8:00 pm
Jurassic Quest is coming to OKLAHOMA CITY, OK!
Our event features more rides, activities, and dinosaurs than ever before! ????
Come join us at the STATE FAIR PARK on
March 15, 16, & 17!
Friday 3pm - 8pm
Saturday & Sunday 9am - 8pm
CLICK THE LINK BELOW TO FIND TICKET PRICES AND PURCHASE TICKETS ONLINE:
https://www.jurassicquest.com/events/oklahoma-city-ok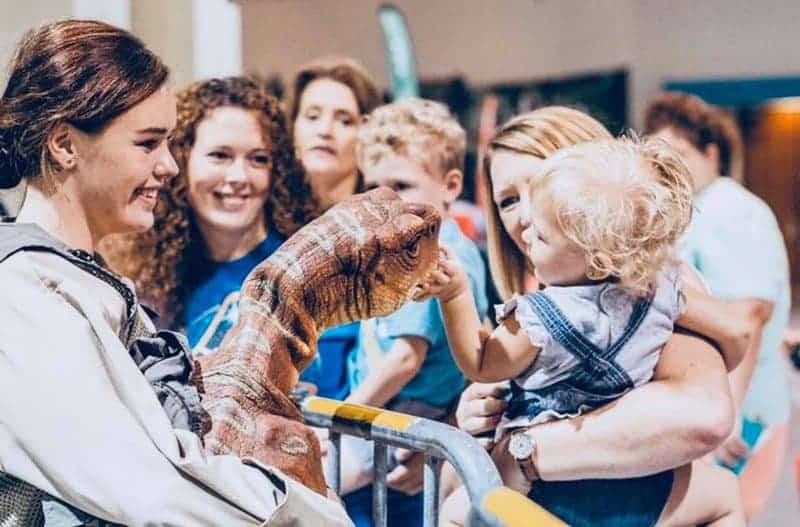 Purchasing online ahead of time ENSURES ENTRY in case of SELL OUT ????
Jurassic Quest is the LARGEST and most REALISTIC dinosaur event in North America,
& is now EVEN BIGGER! ????
What's new at JQ:
- HUGE, NEW 24 ft. Carnotaurus & T-Rex rides! The LARGEST ridable dinosaurs in North America!
- NEW WALKING DINOSAUR RIDES!
- 30 NEW dinosaurs! OVER 80 TOTAL dinosaurs, including a life-size Spinosaurus, Apatosaurus, Triceratops, Giganotosaurus, Pinochiorex, Dracorex, Ouranosaurus, & many more moving, breathing, and even walking dinosaurs!
- NEW activities!
- NEW walking Dilophosaurus and Herrerasaurus!
- NEW fossil digs, and NEW paleontology & fossil stations!
- NEW dino petting zoo (for toddlers)!
- NEW dino scooters (current requirement is 3 & under)!
TIPS:
1. Strollers and wagons are welcome!
2. Be sure to bring your camera ???? There will be a TON of great moments to capture!
3. Bring socks for the kids! Socks are required for the inflatables. ????
4. You can leave and re-enter within the same day, just be sure to get your hands stamped before you leave!
5. The venue provides food vendors! However, you can also leave a cooler in your car and go out to eat, and then re-enter within the same day!
Time

(Friday) 3:00 pm - 8:00 pm
Location

Oklahoma State Fair Park