30nov(nov 30)6:00 pm24dec(dec 24)9:00 pmKingfisher Winter Nights
Event Details

Millions of lights are setting historic Kingfisher Park ablaze in the city of Kingfisher. Every evening from November 30 through December 24, drivers can make their way to see Kingfisher Winter Nights. This Christmas season, drive the winding road that weaves in and out through 50 lighted displays, many of which are animated, and 200 lit trees.

Many visitors to Kingfisher Winter Nights come to see the famous swinging bridge spanning Uncle John's Creek. Children and adults alike delight in walking across the old-fashioned 1903 bridge while looking over the rails to see thousands of lights reflecting off the water.

Free admission draws holiday sightseers each year to Kingfisher Winter Nights. Enjoy train rides through the park and keep an eye out for Santa, who stops by on certain nights to take pictures with guests. Visitors also enjoy hot chocolate while riding the decorated train through the park to get an up-close look at all the displays. The ice skating rink provides fun for all ages, too. Food trucks every weekend and heated tents on certain nights to provide warmth while musicians entertain the crowd.

Located only 40 minutes north of Oklahoma City and south of Enid, Kingfisher Winter Nights is sure to thrill. Donations are accepted.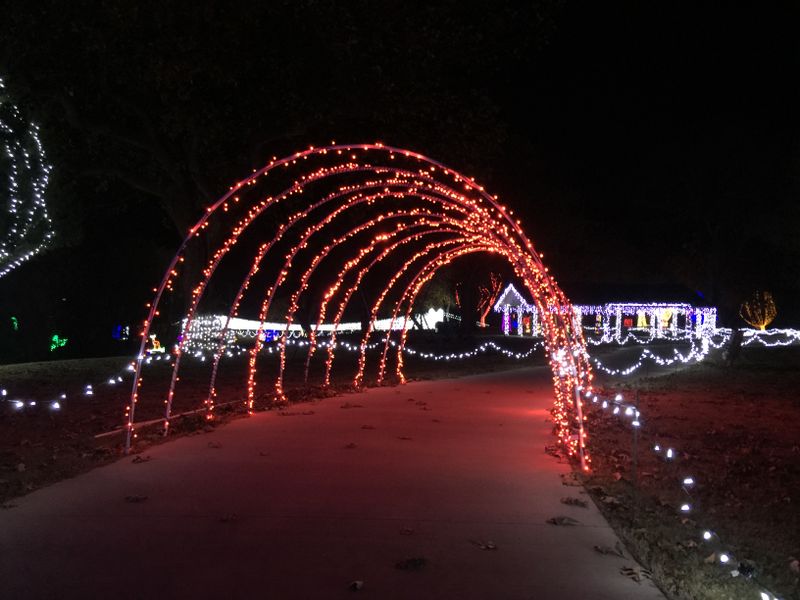 Facility Amenities: 
ADA Compliant
General Information: 
Free admission
Group Amenities: 
Accommodates Tour Groups, Bus/Motorcoach Parking
Highway Corridors (within 5 mi.): 
US-81
Projected Attendance: 
30,000
HOURS
Monday: 
6:00 pm - 9:00 pm
Tuesday: 
6:00 pm - 9:00 pm
Wednesday: 
6:00 pm - 9:00 pm
Thursday: 
6:00 pm - 9:00 pm
Friday: 
6:00 pm - 10:00 pm
Saturday: 
6:00 pm - 10:00 pm
Sunday: 
6:00 pm - 9:00 pm
Located east of Kingfisher on Hwy 33, approx 1 mile east of the Hwy 33 & Hwy 81 intersection.
Time

November 30 (Saturday) 6:00 pm - December 24 (Tuesday) 9:00 pm
Location

Kingfisher City Park