19nov(nov 19)9:00 am30dec(dec 30)6:00 pmOkemah Holiday House - Okemah
Event Details

Pay a visit to the Okemah Holiday House to get your hands on high-quality handcrafted gifts. Sift through the wide array of vendor booths with detailed offerings from ornate baskets and glimmering jewelry to crochet winter wear and warm quilts. Plenty of holiday goods will also be available, including decorations and personalized stockings. Shoppers can even pick out toys for the kids like handmade dolls and teddy bears. Other items available include scented candles and locally tie-dyed clothing. For your best bet at narrowing down your holiday shopping list early, make a trip to the Okemah Holiday House.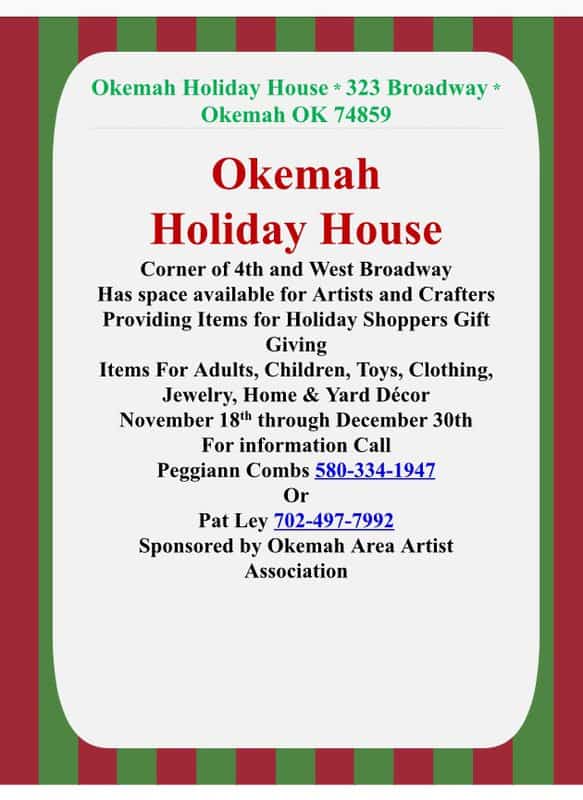 AMENITIES
General Information: 
Free admission
Highway Corridors (within 5 mi.): 
I-40
HOURS
Monday: 
9:00 am - 6:00 pm
Tuesday: 
9:00 am - 6:00 pm
Wednesday: 
9:00 am - 6:00 pm
Thursday: 
9:00 am - 6:00 pm
Friday: 
9:00 am - 6:00 pm
Saturday: 
9:00 am - 6:00 pm
Sunday: 
9:00 am - 6:00 pm
DIRECTIONS
Take the interstate to Okemah and turn N onto Woody Guthrie Blvd. Continue 1/4 mi. Located on W side of the street in the Rock House building.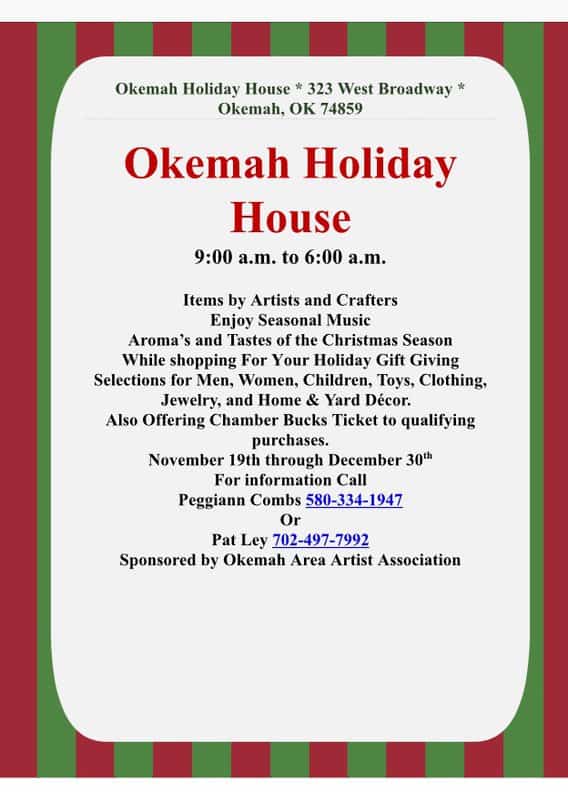 Time

November 19 (Monday) 9:00 am - December 30 (Sunday) 6:00 pm
Location

323 W Broadway Okemah