Renaissance Brewing Brings Oklahoma The Timeless Taste Of The Ages
It's Beer Thirty! Yes, it is time to soak up the suds, open up the taps, and let the golden elixir flow. It is a potion of old dating back over 5,000 years to Ancient Egypt, Mesopotamia, and China.  It was history's first kegger which began with the world's first civilizations.  Interesting, don't you think…as soon as man realizes he can use fire for something else other than staying warm…he brews a beer with it? Beer is one of those man-made creations that appear to just keep getting better with time, never losing its luster.  It's a recipe that transcends borders and beliefs with its ingredients that draw peoples together into a toast to celebrate a taste for life…and the occasional buzz of course.
Thanks, in part, to some new alcohol-related laws in Oklahoma and the continued desire to brew and toast, the state has seen an enthusiastic jumpstart to what could become a thriving industry. Beer brewing is heating up. Although it has been legal to home brew beer since 2010, selling to the public on a brewery site has not been a legal option since August of 2016. With these and other legal changes, the opportunities for breweries to make income outside the wholesale market have created quite a buzz themselves amongst wannabe brewers in the state.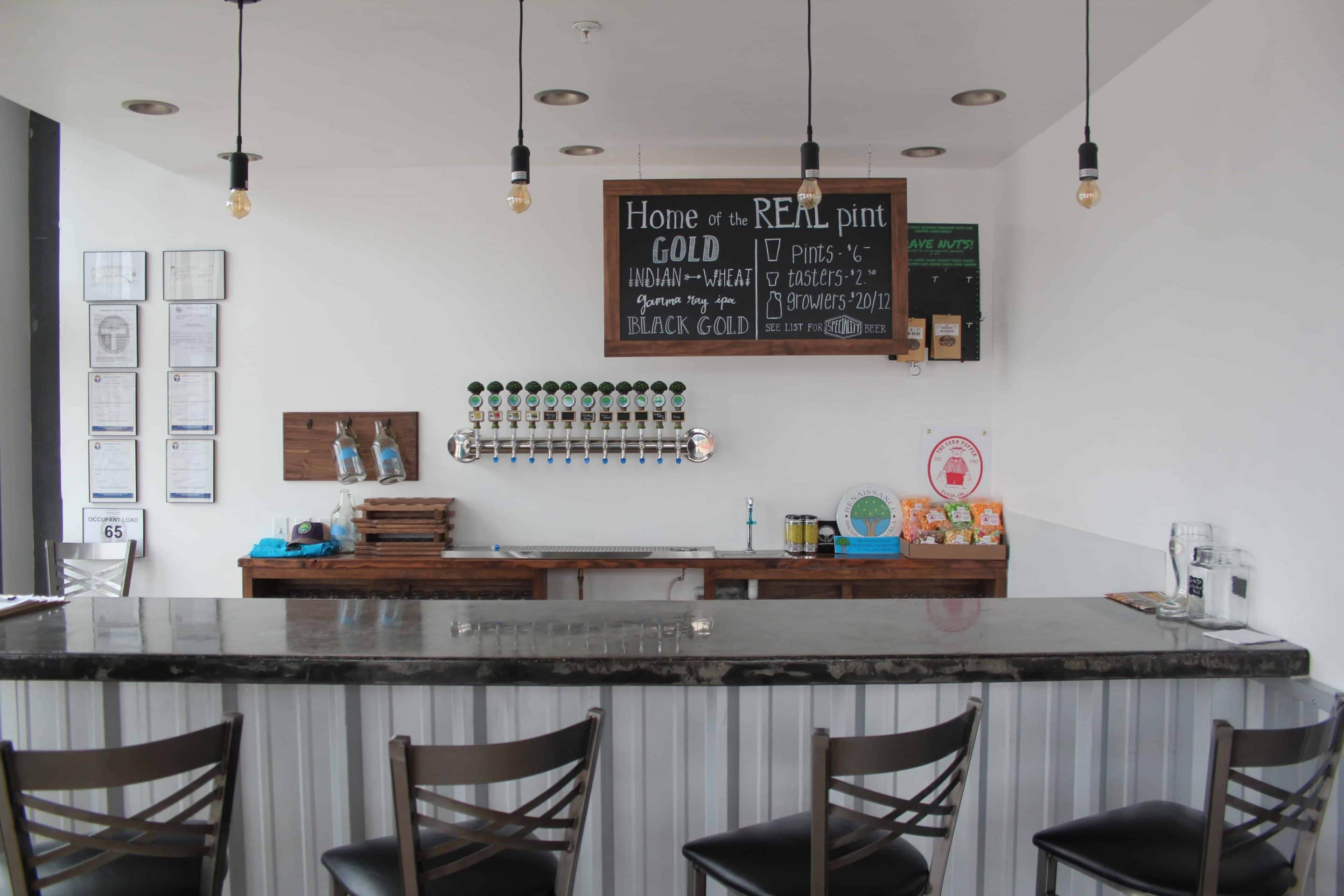 The taproom at Renaissance Brewery.
One of those beer enthusiasts is a real Renaissance man by the name of Glenn Hall. The definition, according to the dictionary, is a man who has expertise in several different subject matters. Hall definitely fits into this category when it comes to building Oklahoma's first brewery from the ground up.  The project began six years ago when he and his wife Sarah began looking for industrial zoned property to build what is now Renaissance Brewing Company located in the heart of mid-town Tulsa.
This location was originally three separate lots with dilapidated homes on them and zoned for commercial use.  He spent 2011-12 acquiring the properties and then the following year he spent doing internships at different breweries and acquiring his formal education in the beer brewing sciences. He also attended the World Brewing Academy achieving his Masters in Brewing Technology and spent time in, Munich, Germany for his apprenticeship in 2013. He then spent the entire year of 2014 getting his new properties zoned for industrial use.  It was an arduous endeavor, but success for the couple and paving the way for others to get properties zoned industrial much easier was the result.
"We were the first brewery to ever challenge any of the zoning laws in Tulsa and the first and only brewery in Oklahoma to build from the ground up".
"We were the first brewery to ever challenge any of the zoning laws in Tulsa and the first and only brewery in Oklahoma to build from the ground up," Hall said. He also helped city leaders understand what breweries are really about. Although the city did have some experience working with Marshall's Brewing, also in Tulsa, that brewery had been zoned industrial from the beginning. So Renaissance Brewery and the City of Tulsa became classmates of sort of Building a brewery 101.
After nine months of waiting on permits, the Halls began building in December of 2015. The construction would take two years to complete. The colossal effort of building as opposed to taking a much easier job working for an existing brewery boils down to a simple philosophy; "I just like my own stuff," he quipped. In actuality, he is one of those people who believe in investing in his own ideas over those of others.
"I had a really good job in IT for 16 years with a good salary. I basically let that go to move backward," he quipped. "I have been brewing since 1994 and so I have always loved the brewing aspect. I like the engineering side of brewing and the equipment even more than the beer. I have wanted to do it professionally for a long time. This has actually been a 20-year plan or vision if you will.  When Hall completed his apprenticeship in Munich, Germany, he knew it was time to follow the teaching of philosopher Plato who said, "He is a wise man who invented beer".  The time had come to become a real Renaissance man and apply his new knowledge to the art of craft beer. In his efforts, he became the general contractor for the construction, along with handling many other aspects of designing, financing and building a brewery from the ground up.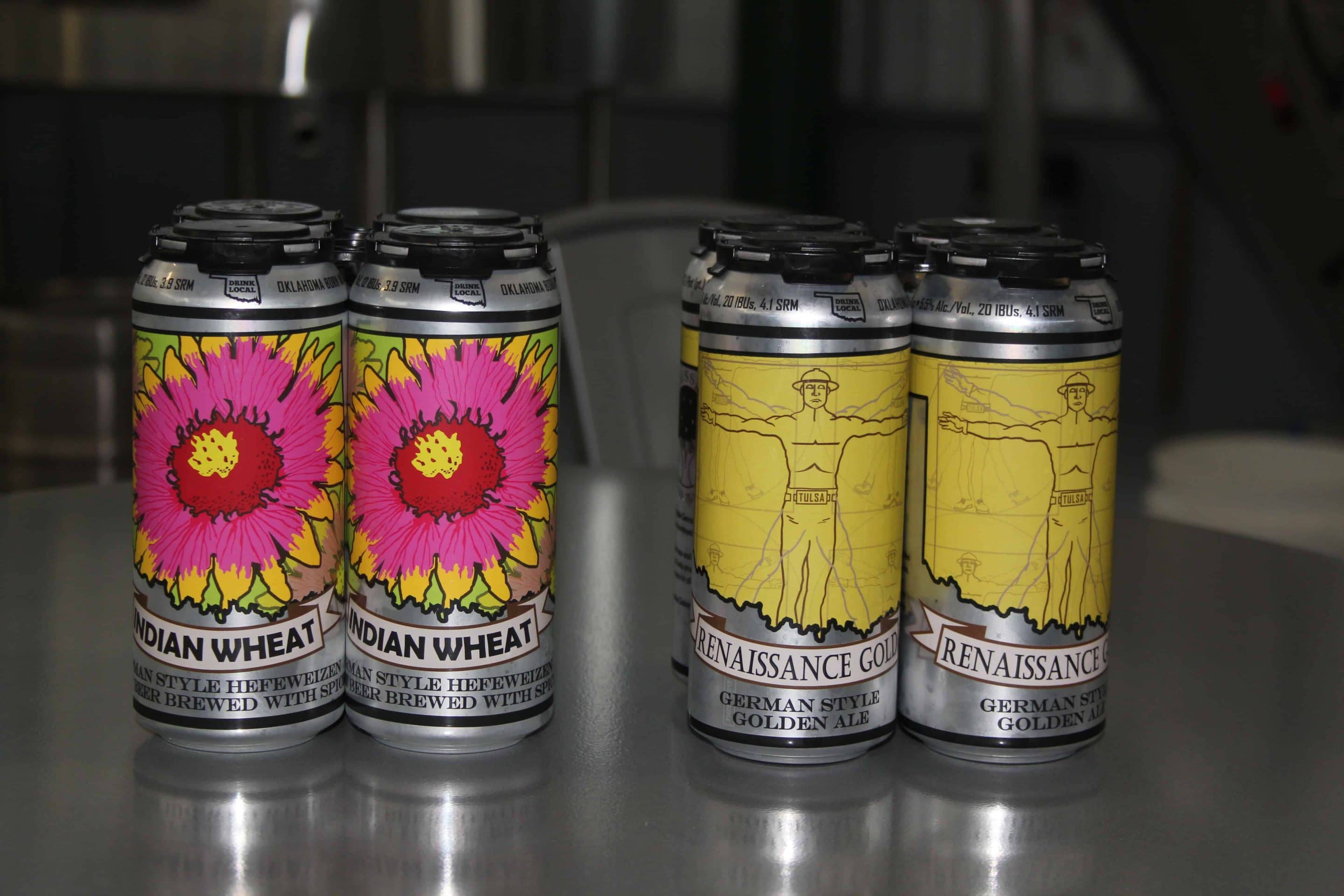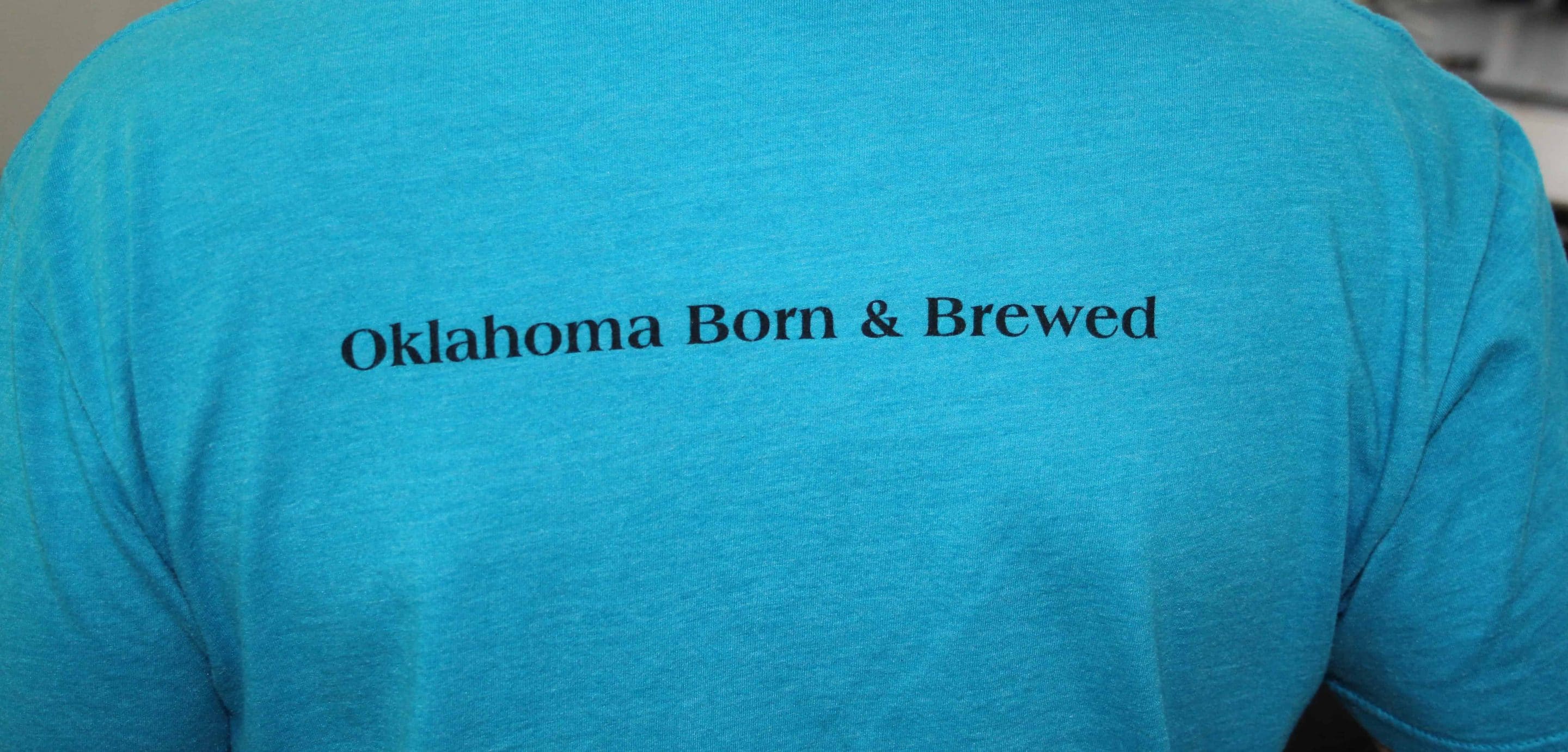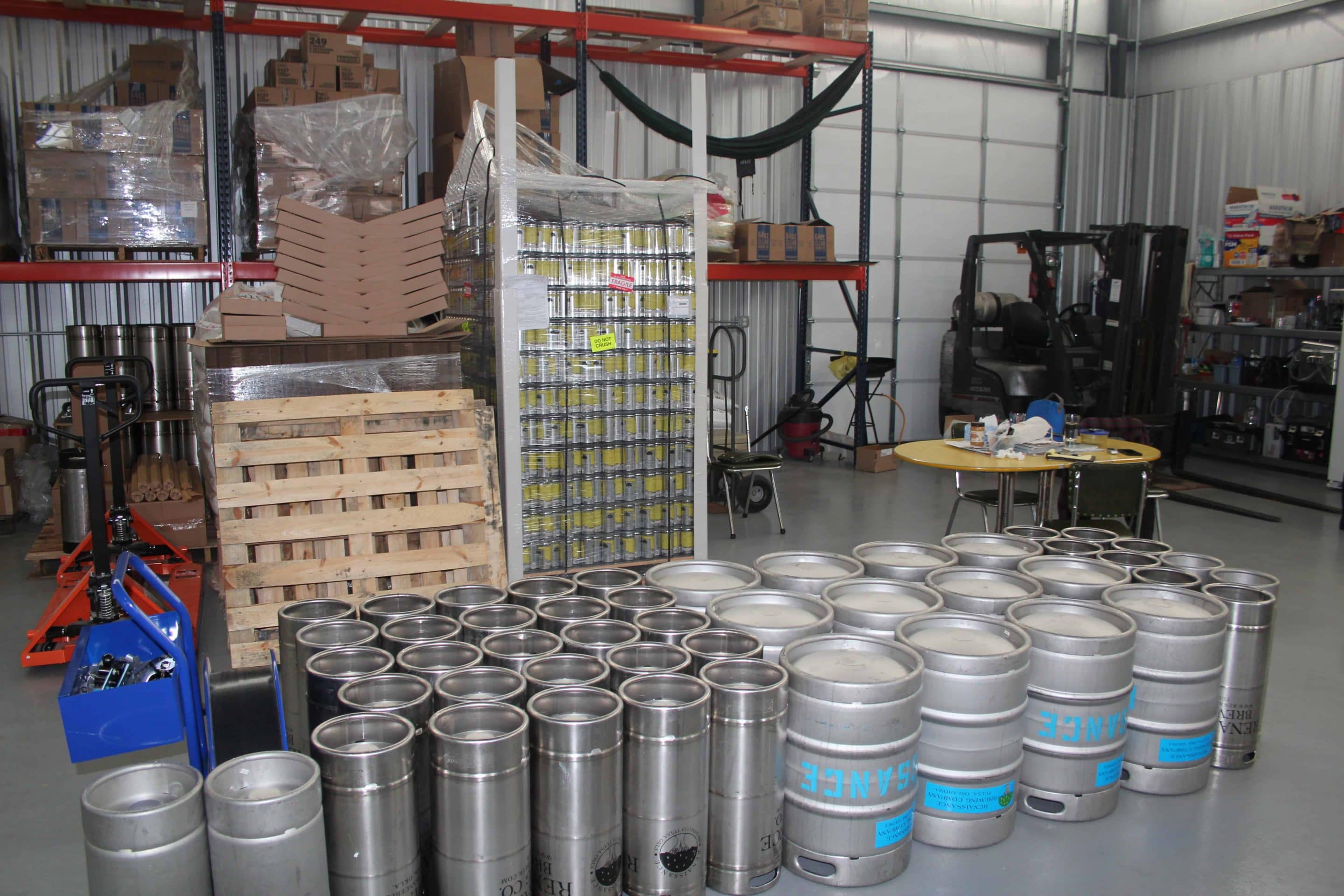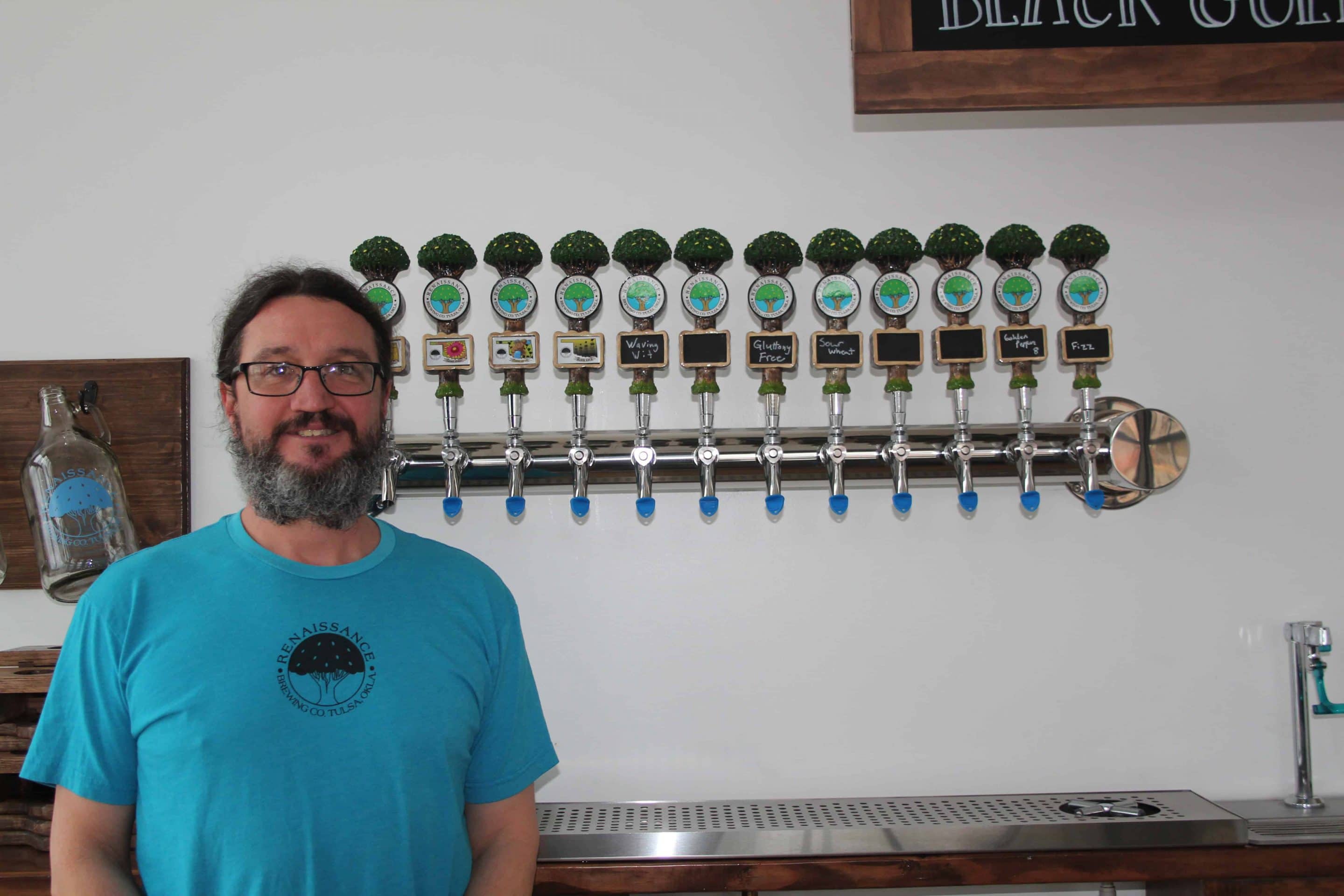 Hall explained that the brewery itself is debt free, leaving only the construction loan and operations costs. In essence, the couple already has over 50 percent equity in the enterprise.  The brewery paid for itself within two months of its public opening on January 11. In addition, he and his wife are proud of the fact that they have made the neighborhood a better place and increased property values by removing decaying structures and building an asset within the community.
"The business is really doing what we believed it could. Of course, we have to grow it more to get where we want to be. One of those future visions is completing two bed and breakfast type apartments on the second floor where 'beer travelers' can stop in Tulsa and spend a couple of nights".  The vision beginning to bring people into the brewery and allow them to experience some of the craft beers Renaissance has to offer. They believe the idea of people being able to stay in a brewery and be exposed to the operation will be very enticing to beer enthusiasts.
"Our main focus is here at the brewery," Hall said. He explained that it is not their intent to saturate the market and push the beer into the mainstream.  He and Sarah want to use the brewery as somewhat of a social gathering. A place for tasters in the tap room, occasional beer dinners where diners can try new beers and have meals prepared by chefs, have short order foods and even become a place to host events.
"We are not going to beg and plead to get our taps everywhere. We want those places that like our beer to carry us. We want to establish relationships with various establishments that we really like and who like us," Hall said. Renaissance actually got started and was able to get into the wholesale market by using its own equipment to brew at the Dead Armadillo brewery location. While there, they were able to get their four flagship beers perfected and available to the wholesale market.
Since the opening of the brewery, the main focus has been to get the taproom open. Now that this is completed and patrons are stopping by to try their beers, they have begun to work on brewing new ones. They pride themselves on having a variety of specialty beers every week, along with their seasonal line-up for the year.  Every Wednesday they release a new beer list which always sells out within that week.
"We now have people showing up early in the week to try some of our new specialty beers." Thus far, the brewery has produced 40 different beers that are "proven recipes," Hall said. The tap room is vital to the experimentation process, he explained. As they produce these specialty beers, the customer demands them allow them to see which ones are popular and could eventually become flagship brews. Currently, there is Renaissance Gold, Indian Wheat, Gamma Ray IPA and Black Gold as flagships.  Renaissance Gold and Indian Wheat are light beers, Gamma Ray IPA is more of a hoppy beer and Black Gold is a dark beer.
"We are selling everything we can make right now," Hall said.  This is with nine current part-time employs and a few tanks. Renaissance has built in the capacity for several more tank operations, but Hall said that growing slowly and using earned cash flow to move forward is much more of a priority than quick expansion.
"I am a Renaissance man because I like to do so many of the things myself," Hall said about his involvement with the day to day operations of the brewery. Although he calls himself owner and brewer, he is also the bookkeeper, janitor, recipe maker and packager as well.  With his renaissance mentality, and the neighborhood being known as the Renaissance area, it seemed as though the name was meant to be.
Still 5,000 years later that crisp and often bitter drink we call beer is still as popular as it has been through the ages. Hall has now joined the ranks of many before him who have taken what nature provides to quench a thirst that seems never-ending. Although it is disputed that Ben Franklin ever said, "Beer is proof that God loves us and wants us to be happy," someone certainly said it. And whoever it was, I bet that man was a Renaissance man just like Glenn Hall.
The Renaissance area is in the heart of Tulsa's historic midtown, bordering streets are East 11th to 15th and from South Harvard to Lewis with the brewery located at 1147 S Lewis Ave. Hours are Wednesday-Friday from 4-9 pm, 12-9 pm on Saturday and 12-6 pm on Sunday.  For more information about their flagship beers, visit renaissancebeer.com. To try one of their specialty beers, stop by and belly up to the bar.