The Origin of the Outsiders House Museum
731 N. St. Louis Avenue. It's just an ordinary address of an old house in an old neighborhood that most people will never see and would pay no attention to it if they did see it. But to a few, it's a place of memory and reflection, and to one person, it became a pilgrimage. It's the epicenter of what was a fictional tragedy that continues to strike something genuine in all of us when experiencing our transformation from childhood to adulthood. It was an ordinary address in the beginning until it became part of a movie set. Now it's known as the Outsiders House. Writer S.E. Hinton, movie director Francis Ford Coppola and a group of aspiring and talented young actors created what would eventually become a time capsule of sorts with the 1983 release of the movie "The Outsiders" filmed in Tulsa.
Hinton's novel of the same name, written while she was a teenager in Tulsa, is a coming of age story between the teen and young adult Greasers and the Socials in the mid-1960s. And though the riffs between social groups are as old as civilization and often the theme of young adult works, there was magically released when these specific creative forces collaborated on this story in Tulsa all those years ago.
It is that magic that lives on long after the set has been cleared and those involved moved onto other projects. It is that same magic that brought a former Los Angeles rap artist to a new purpose in his life.
There have been several stories from newspapers and other media that highlighted Danny Boy O'Connor's efforts beginning with his purchase and then the subsequent restoration of the house where C. Thomas Howell, Rob Lowe, Emilio Estevez, Ralph Macchio, Tom Cruise, and Patrick Swayze created movie history and unknowingly the Brat Pack genre of the 1980s.

While touring with his music projects and with the Hip Hop trio House of Pain, O'Connor would seek out interesting pop culture locations and explore them. Each new city was an opportunity to locate small treasures. He never wasted an opportunity. After years of living a wild and drug-fueled existence, O'Connor found himself sober, excited, on the road, and with a new camera in which to document America's hidden and almost forgotten historical treasures and pop culture locations. During this point in his life in 2009, he, like the characters in The Outsiders, was finding himself and learning not just about who he was but who he wanted to become. It wouldn't be long before he discovered his first treasure which just happened to be in Tulsa. O'Connor felt a connection to the story and had been a fan of the movie since first seeing it. Obviously, it held some interest for him, but he wouldn't have dreamed how it would come to impact his life. There was something deep and mysterious that drew him to the house. Not just once, but year after year. He would often think of it and what might become of it in the years to come.
His first encounter with the house, he found it to be in a dilapidated state. It was undergoing a "Fluff & Buff" by its current owner for a quick sale. But it was really nothing more than a rundown rental property. There were no signs identifying this address as part of cinematic history, no sign at all in fact that this had ever been anything but an obscure address in a North Tulsa neighborhood. He asked to gain entry but was denied and informed he could purchase the property for $42,000 if he was that interested. And though this was a bargain compared to property values in Los Angeles, he opted not to buy it. He continued on his way, but not before snapping a photo and posting it on his social media. That was his first photo of historically significant finds and the beginning of what would become a quest of finding pop culture and historical gems in America.
That one photo and the sadness he felt that something so significant was treated as a second-hand prop sold to the highest bidder would become a haunting memory of a dying old house in Tulsa that once was a stage for a timeless classic. That memory and the feelings it invoked never left him. This was in 2009. He continued with his travels seeking out tidbits of history and pop culture every place he visited. With the onset of early online social interaction that we now know as social media, O'Connor continued posting his finds after so many responded positively to the Outsider House post. He soon realized there were many others who shared his passion. As social media evolved, his postings found a following. He was soon to realize he was being called away from music to explore a new purpose. He was to preserve history and ignite a passion for this country's pop culture contributions. He felt creating music was losing the importance it once held for him, but a new passion was taking its place. He was still touring but with a budding new purpose.
"I was sober and seeing America for the first time with sober eyes. I wanted to rediscover all the simple things we are known for like Route 66 and all these catchy things in the country," O'Connor said. And yet with all his exploration and discovery, it was that old house with the shabby fence and junked up yard in North Tulsa which held a special place in his heart…the first photo he posted.
"I would go on the road, make enough money to live for six months, and then I would start to do these deeper dives into exploring, which would bring me across the US. And every time I would head out across the country, I would make a beeline to Tulsa because this is where it all started for me and I was always wondering what people were doing with the house. Each year I came back, it looked worse for wear with tenants who didn't know of or care about its significance,".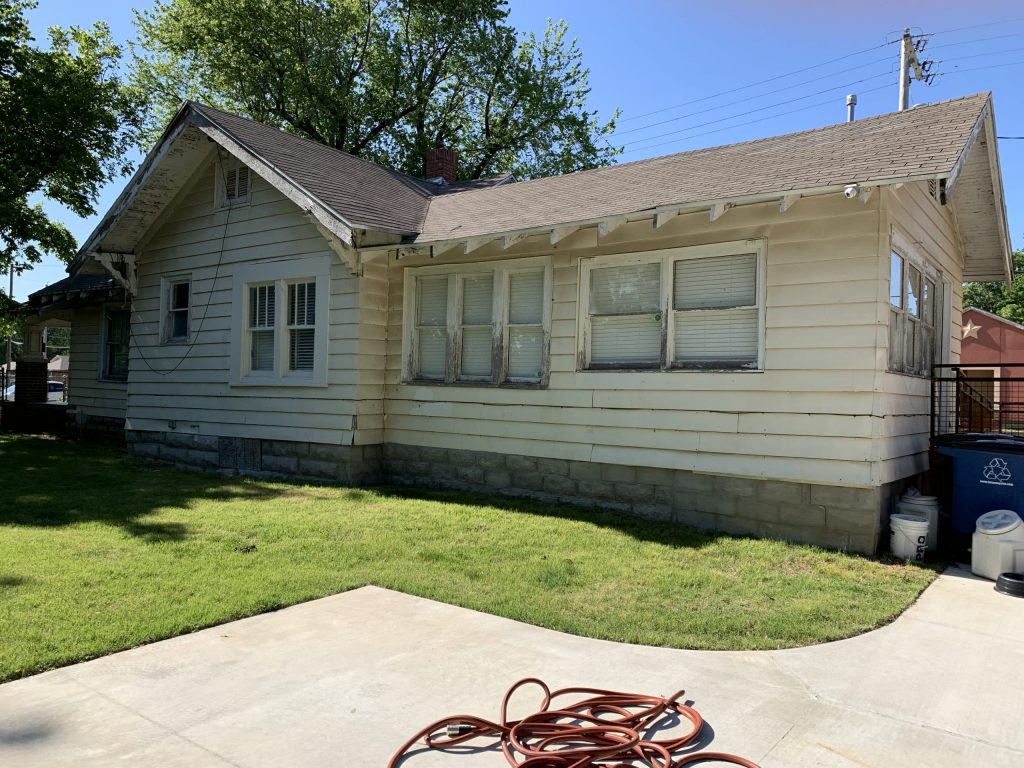 By the fourth year of coming back, it was apparent that the house's worsening condition would eventually land it on someone's demolition list. He was right. By 2016 it was heavy on his mind and on the Habitat for Humanity shortlist as well. For that organization, it was a prime location to build two houses and they were looking to acquire it. O'Connor felt sad that the house was going to be put down and feverishly began an unsuccessful search for the owner. Out of options, he approached the then-current tenants and lied about wanting to publish photos of the house and needing the owner's permission. It worked. The owner asked a price in the $40,000 range, but a shrewd negotiator friend of O'Connor's got it down to $15,000. He thought he stole it! He soon realized that was not the case.
Upon his arrival at the house from Los Angeles a short time later, he was shocked to discover how far it had deteriorated since his last visit. Not to mention it would eventually cost him $5000 to get the tenants to vacate the property. He feared each day they were there more damage would be done to the house and so he paid back rent to get them out. At this point, he was into the property for $20,000 and only had 28,000 to his name. He still thought he was "Gold" though. He lived in Beverly Hills and now owned a house in Tulsa where he could stay if he wanted. It needed work sure, he knew that. But it wasn't until the tenants finally moved, he realized just how much work it needed. It was not habitable and the $8000 he had left wouldn't even make a dent to get it that way. He had, however, met his prime objective and saved the house from demolition, but it wasn't the complete outcome which he had hoped. (Habitat for Humanity later confirmed they were going to buy and demolish.)
"If you have ever seen an episode of hoarders…this was worse and they had used the lawn as a junkyard! When I opened the door, I was like man I just flushed twenty grand down the toilet! This was not the way the house was the last time I had visited. I was just going to board it up and go home and cry. At least they won't be able to tear it down," he thought to himself at the time. There were major issues including a faulty foundation, no heat and air, roaches, rats, no modern insulation, and much, much more.
He initially panicked, but after regrouping his thoughts, he remembered hearing about the "Christmas Story" museum in Cleveland, Ohio, and how that owner had found himself in a similar situation when he purchased that house. So, he thought, okay an Outsiders movie museum might be a good idea. Perhaps there would be others out there like him who saw the need to save places like the house where a movie was filmed. He let his intentions known and when the press got wind, help came immediately.
"As soon as I put it on Facebook, my phone started ringing off the wall with the press. People started stopping by including the mayor and city officials,".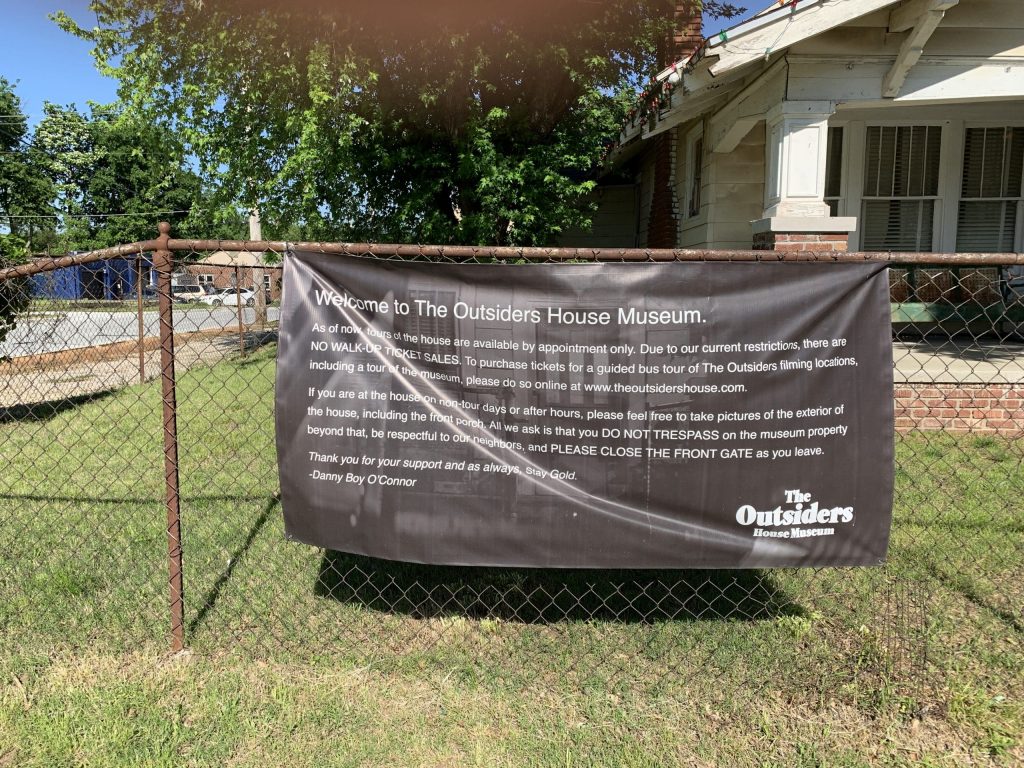 The house was a long way from a museum and in desperate need of just about everything. The magic I wrote about earlier began to manifest again as though it had awakened from its over 30-year slumber. The passion and art which had been created in that house during filming were roused by O'Connor's and the public's desire to see it saved and live on for future generations. Donations in the form of money, labor, and supplies began pouring in allowing O'Connor's vision to take shape.
As remodeling was underway, he was in constant search of props and memorabilia to fill the museum. His searches paid off and today the households the most impressive collection of The Outsiders memorabilia on the planet. The museum has been completed since last year and now it's as though being on set when walking through the house. Scenes from the movie flash through one's mind while viewing all that has been collected and displayed. Scenes such as Ponyboy at his writing desk, Sodapop coming out of the bathroom in a towel and the Greasers preparing for the rumble are all still alive.
There is so much to write pertaining to what O'Connor and those who have contributed to this project have recreated in this small North Tulsa neighborhood. But I think what is most interesting is how O'Connor is mysteriously and inextricably linked to this house and how it beckoned him to its door year after year with a plea to revive it. He did save it from certain death just as Ponyboy, Johnny, and Dallas did for those children in the abandoned, burning church. Is it coincidence or fate that Outsiders is a story about finding who we are and essentially saving that and those which we care whether that be family, friends, or the way we believe? O'Connor's efforts have done just that in his own life. In doing so he has found a home and friends in Tulsa the same way several fictional young people did all those years ago when S.E. Hinton wrote a timeless story about friends, family, and growing up in a world where we must all figure out who we want to be. O'Connor moved to Tulsa in 2017 to watch over the house that beckoned him in 2009. The Outsiders House and its preservation is his passion now. And though he was not able to move into the house he bought; in many ways it is home…the place where the heart is. It's as though the magic knew it had found its salvation when a pop-culture enthusiast snapped a photo. From that moment, it invited him home.
The Outsiders House Museum is dedicated to the preservation of the home and memorabilia used in The Outsiders, filmed by Francis Ford Coppola in Tulsa, Oklahoma in 1982. In addition, it is a nonprofit organization working to provide Oklahoma's youth knowledge about the works of S.E. Hinton and the impact those works have had on pop culture.
It should be noted that even the Habitat for Humanity kicked in and built the gift shop and restrooms at the back of the property. Drop by if you're ever in the neighborhood. You might just find a bit of gold spun from the magic that lives on in a North Tulsa neighborhood.
To learn more about The Outsiders House, visit theoutsidershouse.com.