Step Out Of Your Car And Into The Past
When the wind came sweeping down the plains of Oklahoma in the 1870's and 80's, it brought Native Americans from all corners of what would become the continental United States. In addition, it brought settlers looking for a piece of earth to call their own and ultimately an end of the westward expansion.  It was a melting pot of challenges and changes that would eventually lead to a boiling point that history would remember as the Land Run of 1889. Thousands would stake claims of 160-acre plots for themselves while Native Americans were settled onto reservations and indoctrinated into "white man's" culture. Whether one may argue as to what happened during that period was right or wrong, what cannot be argued is the incredible dynamic that poured out of that melting pot.
Various peoples from all types of different backgrounds found themselves in a territorial wilderness where they would create a society like no other. Each day these people were making history in their efforts to not only survive but thrive. One room school houses and community churches would sprout up, legends would be born, and customs would begin losing their origins only to be replaced by new ones under one name…Oklahomans.  In such a whirlwind, these people would become one; they would form a state and an identity as the years passed. One Oklahoma town would recognize this amazing accomplishment and showcase it to those of who were not there to experience it.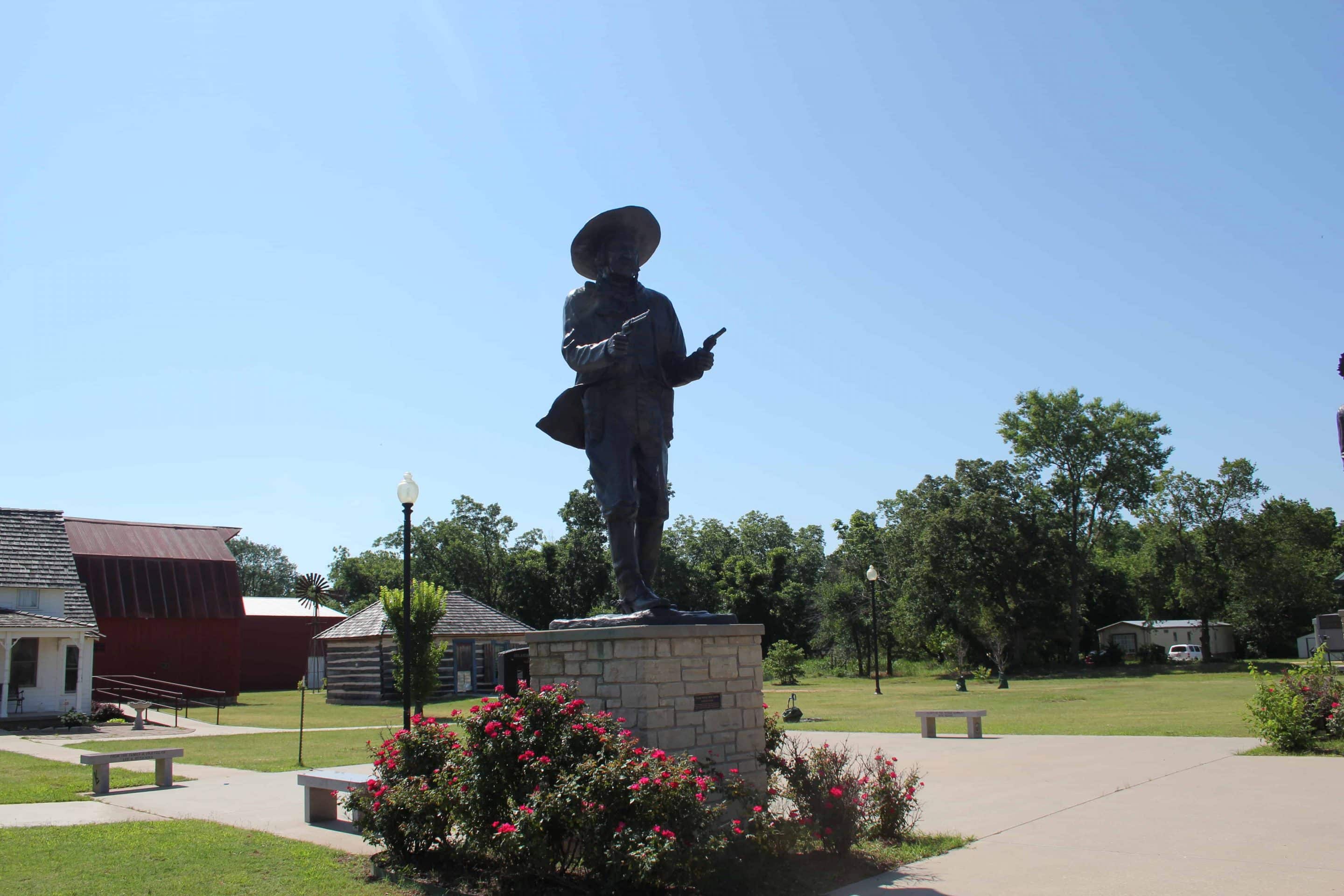 Pistol Pete Statue at the Oklahoma Territorial Plaza in Perkins, Ok.
In all, there were seven land runs beginning with the famous initial run of April 22, 1889. The town of Perkins near Stillwater was opened up shortly after one of those runs in 1891. It was the "gateway to the Ioway and Sac and Fox reservations and the symbolic joining of white man and Indian lands. Fast forward over a century later, and one can find a memorial of sorts to that time in state history when the building blocks of diverse cultures became a common people. It began in 2005 when the city manager of Perkins wanted to acquire congressional funding for a statue of its most famous citizen, Frank "Pistol Pete" Eaton who is most known today as the mascot for Oklahoma State University.
"Initially, I thought this is a waste of time. There is no way Congress is going to give us $200,000 for a couple of statues. But lo and behold, they did give us the money," David Sasser said. He was the one who the city manager asked to write the proposal for the project dubbed the Oklahoma Territorial Plaza. However, Sasser explined that at first, it was only going to be two statues; one of Pistol Pete and the other of Ioway Chief  Nacheninga or "No Heart". The idea was to highlight the two cultures who worked together to form a society of unity and working together for the greater good.
"It has been really interesting how so many things came together to create the plaza from the beginning."
It was an idea that would quickly gain momentum. As the word spread about this small project, other ideas would be suggested to create an entire vision. The first of these was to move an old church which the city-owned to the site. Next to be added was a log cabin built in 1901 and restored by the grandson of its original owners. The one-room school was moved to the site a short time later. With so many ideas for exhibits, space would quickly become an issue. Fortunately, a local developer stepped up and offered to donate three acres to the project if the organizers agreed to buy one across the street from the original location.  They did! Shortly, after that move, another donor offered up more land allowing the park to be six acres.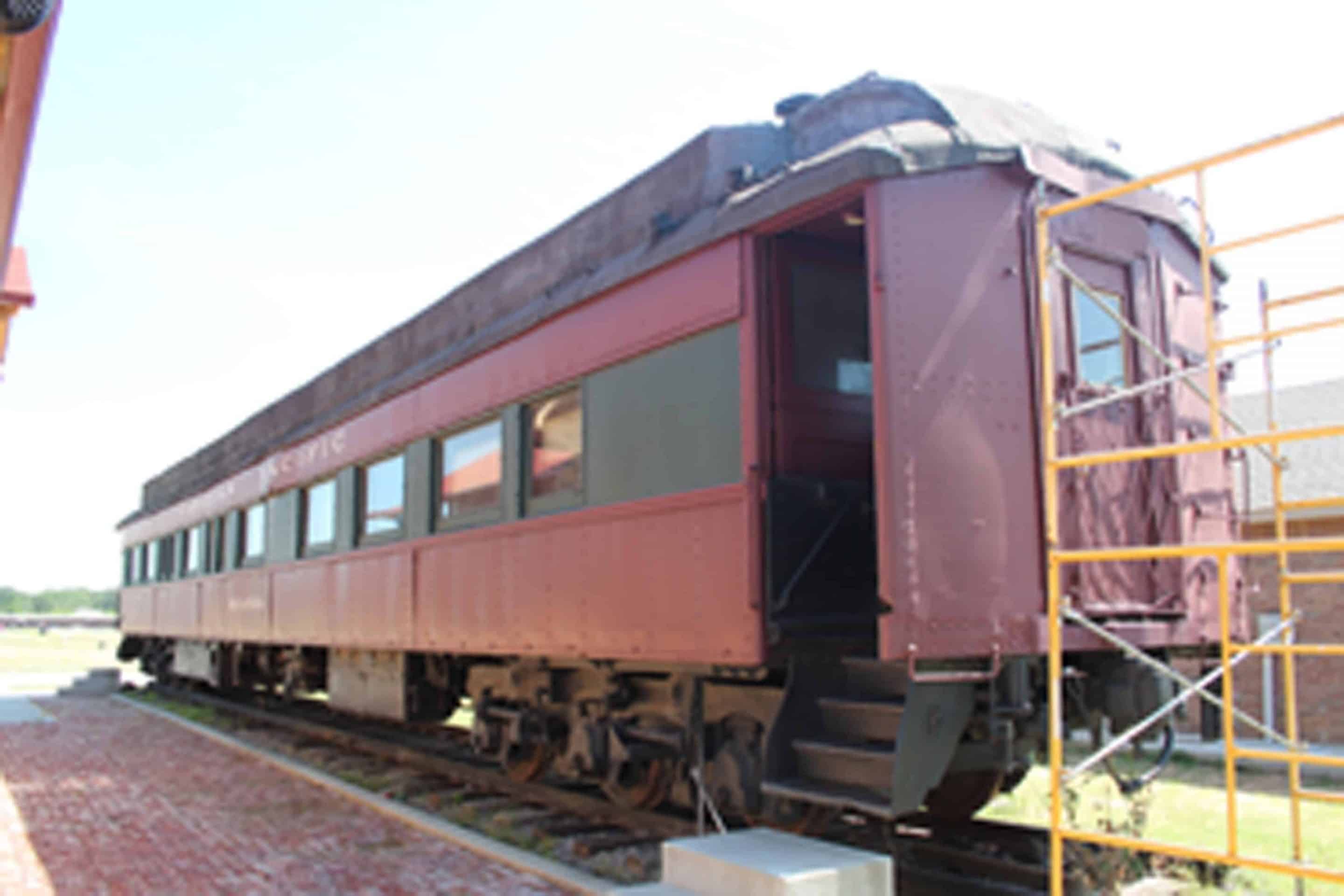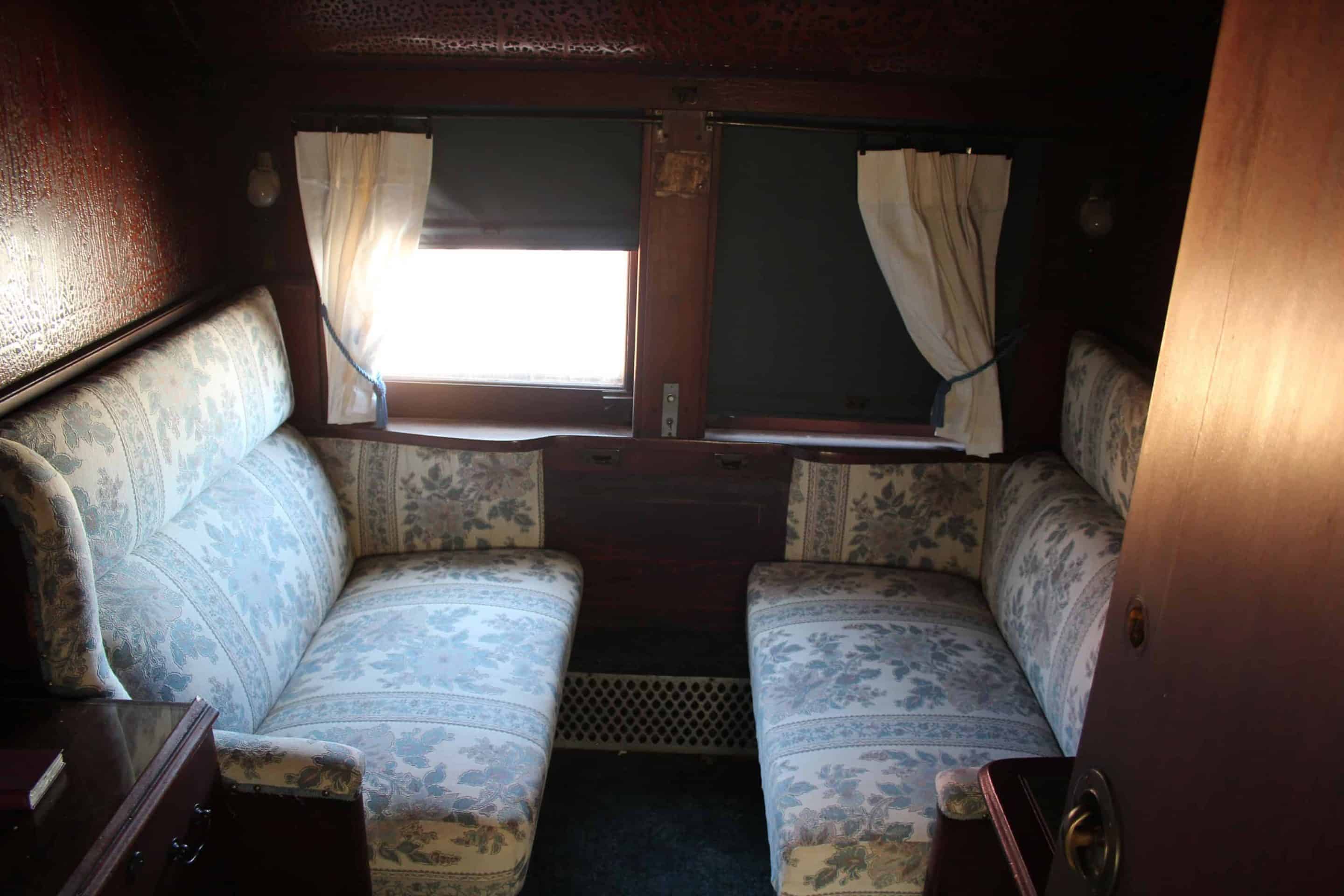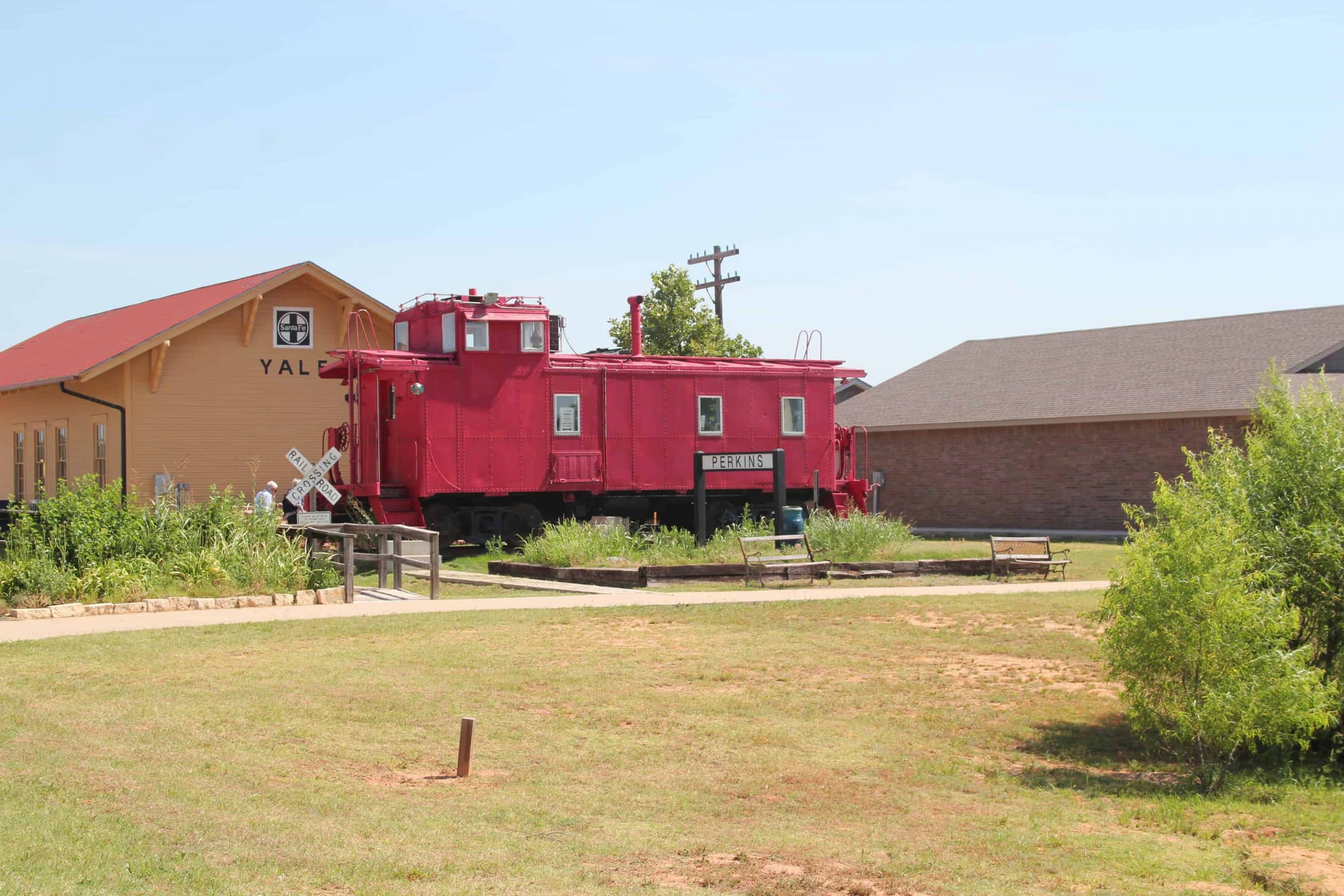 Now, the park needed a center attraction to go along with the statues and other exhibits. Eventually the trust would acquire Pistol Pete's house. It would take some time though. After his death in 1958, the family had used it as a gift shop. But it had fallen into disrepair over the years, and the family eventually donated it to the plaza. With the help of an Oklahoma Historical grant, the organizers were able to restore the house.
"It has been really interesting how so many things came together to create the plaza from the beginning," Sasser said. He is the chairman of the trust which operates the plaza and has been on board since the plaza's inception. Another example of how "things came together" was the Cimarron Valley Railroad Museum established by Bob Reed in Cushing in 1970. Reed donated an old train depot building and all of the contents to the plaza upon his passing. Sasser explained that Reed's collection is one of the best anywhere and makes a great addition to the plaza's theme of early Oklahoma territorial history. The exhibit also includes a 1903 Canadian Pacific car, a caboose and even executive coach donated by other families. All of these are open and available for the public to walk through and experience what travel would have been like in those early days.
The best part about the plaza though is that it's free. Also, it's open every day of the year for those who like to walk the grounds and its trails. Although the buildings and train cars are only open from Memorial Day to Labor Day, visitors are welcome to peek into the windows anytime when they are locked. During the summer months, the grounds are operated by volunteers who make the buildings available to visitors. In addition, the grounds also have a splash pad for children to enjoy the summer heat and picnic pavilions for adults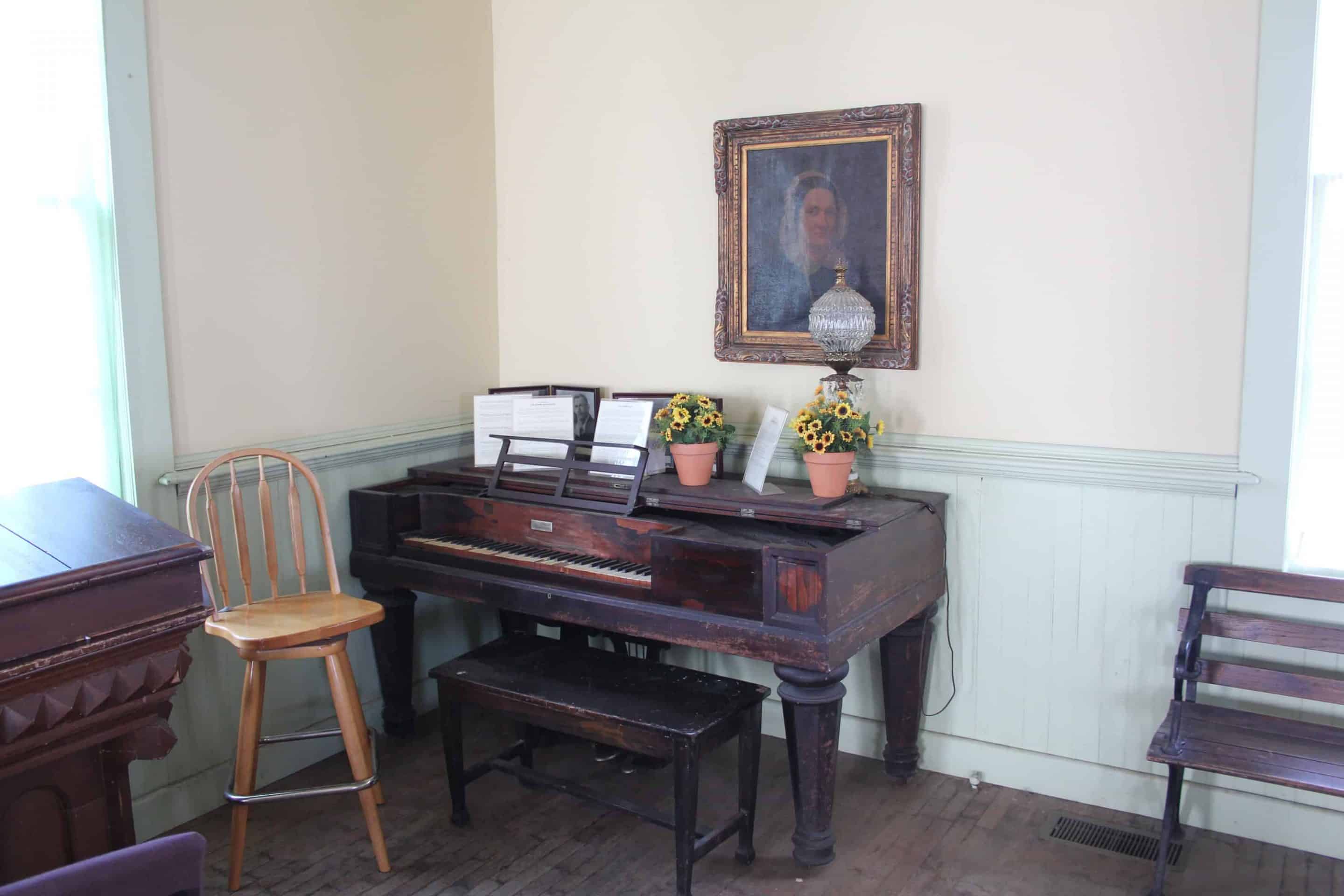 Photos left and middle are the inside of Pistol Pete's home. Photo right is inside the train depot building. C. L. Harmon Photos
As I mentioned, this is free. As such, it can be considered a gift that out of state travelers and Oklahomans alike can enjoy. Sasser explained that $1.5 million had been donated by locals to help bring this historical gift to life. He added that each year a fundraiser is held which raises money to sustain the plaza which is held as a municipal trust. As such, the City of Perkins allocates some funding for maintenance as it would for any city-operated park. Another source of income for the plaza is through renting out the old church and one of the two only modern buildings on the premises, the community center, for weddings, family reunions, and receptions.
Unfortunately, the plaza has reached its capacity to bring more exhibits with the completion of the other modern building, a small museum that houses many more artifacts that were not able to fit into the other exhibits. Sasser said he hopes it will be open this year.
The plaza is a unique journey through some of the state's incredible history and life that poured out of that melting pot over the years. While walking about, one can almost feel the days of old…the ones that cannot be experienced from the teachings in a history book. The plaza truly is a gift from the City of Perkins to everyone who wants to see history come alive for a few minutes. It's a rare find to experience history that is not safely protected behind a pane of glass. The territorial plaza gives one the up close and personal experience; the smells of the old buildings, the feel of a train seat, the creaks in the floors and the true understanding of what it must have been like all those years ago in a little place we like to call home. Let the winds of the plains sweep you into another time this summer at the Oklahoma Territorial Plaza.
The plaza is located at 750 N. Main Street in Perkins, OK. For more information, call (405) 547-2777 or visit info@okterritory.org