Oklahoma Lights
In 1946 a small platoon of military men arrived in the desolate northeast corner of the Sooner State. This was not a top-secret operation or retrieval of hidden Nazis. These men were tasked with something much more obscure and baffling. The mission? Determine the cause of what has become known as The Spook Lights of the Devil's Promenade.
This terrifyingly named event lies on East 50th Road near the Oklahoma and Missouri state-line near the town of Peoria. The phenomenon has been well documented and was first reported in the 1880s. There are plenty of photographs and even videos of these strange lights.
Even more interesting is the fact you can only see them while facing west on the Oklahoma side. Why would this be? Reflections? The refracted shine of some stellar object? The Army could not conclude, only saying it was a mysterious light of unknown origin.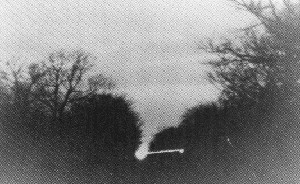 As I read on, it became evident that there was far too much information about this spot to brush away as a simple rumor. The next day I, and my photographer, who also doubles as a nurse; because at my age, you never know, began our sixty-minute journey. This secluded road really does sit out in the land of nowhere, and for a while, we weren't even sure that we were at the right spot.
The sun was just beginning to touch the western horizon, and I was becoming anxious. It was then that a car topped a hill in front of me, where I stood fidgeting in place. It was an old convertible Mustang being driven by a middle-aged woman with a perpetual smile. She saw us and brought the car to a stop.
"You lookin' for the lights?" she said.
"We are," I said.
"You're in the right spot," she chimed out. She then pointed back from the way she had just come and told us to keep our eyes on the nearest hill. I looked back, noting the location, and also noticed that an even taller hill stood behind it. The nice lady then proceeded to tell us how she had seen them a couple of times, herself.
Once while parked with her boyfriend back in her younger days. I noticed that her eyes seemed to contain a mysterious glow of their own as she relived the memory and decided not to further pursue the topic. We thanked her for the information, and she drove on.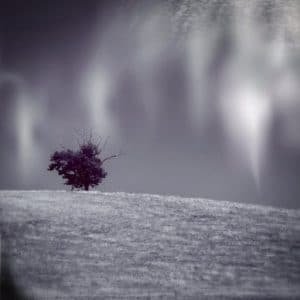 Another Vehicle
Another vehicle crested the hill to our west and stopped for a chat. The man behind the wheel confirmed what the lady had told us. By then, the sun had fallen behind the rippled skyline, carpeting the land in shadows. We gave him a cordial thank you and watched as he drove on.
I gazed back to the west, noting the deepening shade of the sky, and then they appeared. It was as if a campfire had suddenly ignited, an orange glow that seemed to hover on the nearest hill, becoming brighter. At first, I was sure that it had to be another car illuminated in the distance, but it never moved. I watched in disbelief as the orange light changed to yellow and then a heated blue. It was like watching a pulsing star going through its cycle of life.
"Maybe we should drive towards it," my trusty camera operator said. She was right, and yet I hesitated. I had read that once you pursue the apparition, it disappears, and you will never see it again.
"Let's take pictures first," I said. She had no more than snapped two photos when the light split apart. There were now two floating orbs less than a half-mile away, and they appeared to be dancing. There are many myths and legends that come with this place; one being how a miner lost his family and forever continues to search; another contains elements of the extra-terrestrial kind.
But as I watched these shimmering balls of energy swaying, I couldn't help but think of the story about the two Native American lovers. Much like a Shakespearean tragedy, they were forbidden by the tribe to see each other. At some point, the word of the elders mattered little, and they ran off together, never to be seen again. Or maybe what happened to them was something a little more sinister; perhaps they had never left at all but had been stopped in some horrific manner.
This was the tale that latched onto me, and as I watched the two lights drifting back towards each other, I could almost feel their longing. I know this sounds strange, but it was like watching two burning magnets being slowly drawn together. Within moments, they joined, again becoming one and blasting a brilliant blue light. The beam lit for only a second and then began to fade until disappearing, leaving me frozen.
"What the hell was that?" my shocked assistant said.
Jaw Drops
I only stood there, my jaw reaching for the ground. I had no answer. With an effort,  I regained some semblance of composure and looked around for anything that might help debunk whatever it was that we just saw. There was a cellphone tower flashing its red warning lights in the distance, but the lights were far too high and were red in color. I searched for signs of another road, where perhaps vehicle lights could be overlapping, creating some kind of optical illusion. But I saw nothing.
"Let's drive over to the spot," I said, finally.
Together, we climbed into the truck and made our way to the next hill. I took my best guess at where I thought the lights had been coming from, but all I could find were fallen leaves and an empty soda can. After a few more speculative minutes, we decided to head back, feeling both exhilarated and confused. This was by far the most interesting trip into the unknown that I have ever experienced. There had been no need for EVP recorders or EMF meters; the proof had seemed happy enough to present itself. We drove back with convoluted theories spewing out, each as unlikely as the next.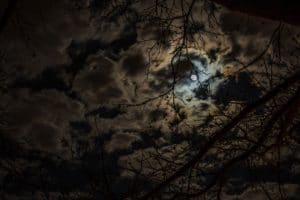 The truth is, something is there. And much like the United States Army and the hundreds of others who have experienced the phantasmal glow, I couldn't begin to tell you what it is.
But it is there.
Haunted Uniquelahoma