Miss Oklahoma Rags to Riches
It's a Cinderella story of sorts, a rags-to-on-her-way-to-riches story. The parallels between this driven young lady and the fabled Cinderella are uncanny, with one exception Mariah Jane Davis needs no Prince Charming to achieve the happily ever after. At the tender age of 25, Davis has discovered that the glass slipper is, at the very least, always half full.
Growing up in the Oklahoma City area, Davis, her sister Erin and her mother, Sheila lived a low-income existence and relied on free Indian Health Care as the family are members of the Choctaw Nation. It was a time of struggle, Davis recalls. But it was also something else, an opportunity to see what hard work and perseverance can provide. Her mother was that example. Davis witnessed the power that lies in determination, grit, and faith in one's self.
It was a home filled with love and lessons that would be her springboard to her successes. After many years of struggles, her mother would take a leap of faith and leave her low-paying employment. She began working in real estate from her home, which turned out to be a reversal of fortune for this struggling single-parent family. She had learned that success was always possible from her mother, even if not close.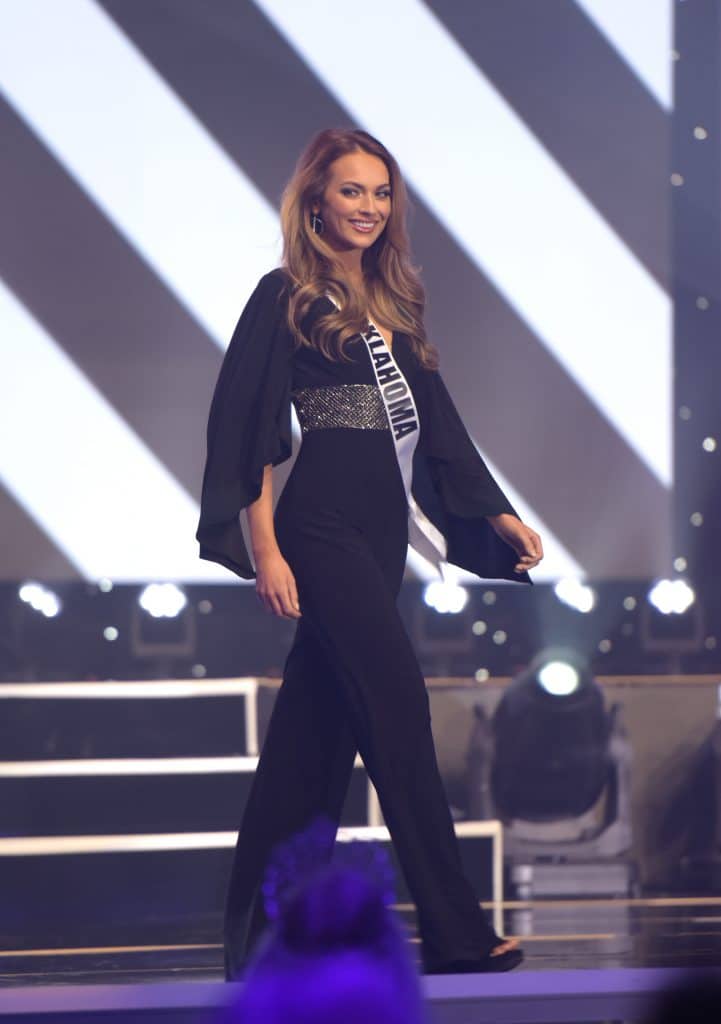 "My mom was my example that you can start with nothing and build something if you're willing to work hard. And I was able to see what working hard looks like through my mom," she said. Soon after, the family finances were on the upswing with her mother's business success and, with it, a move at the age of 13. The family moved to Moore, Oklahoma.
Pivotal Moment
This was a pivotal move for the budding teen who had only known the low-income existence. It forced her to start over much the same way her mother had done. It was a new environment and, although a bit frightening to start over, it was an opportunity to grow and cultivate many of the people skills that would become so valuable when she began pursuing the dream of becoming Miss Oklahoma.
"I started dreaming big at a very young age and believing it was possible to achieve my dreams," she said. As most young adults do, she realized early that having dreams is a destination and not a road map. She desired success in life but did not know what that looked like for her life.
However, she knew that she wanted as much out of life as possible and that 'direction' was the starting point to get there. She admits that through most of her years in high school, she lacked that direction to go along with her desire. And to make matters worse, life had thrown her the curveball of clinical depression coupled with anxiety.
For dream chasers, the most difficult part is often finding that starting point even to begin pursuing those dreams. Depression often worsens with its role of playing keep-away with finding that starting point. This was no different for Davis. And yet, she was able to remain focused and, as a junior in high school, fought her melancholy moods and decided to go after the title of Miss Oklahoma Teen USA. She worked hard, and it paid off when she placed second runner up. She achieved the same honor the following year. And though she had not won the title, she won something greater, that elusive starting point as to how to start pursuing a dream.
Initially, after her second runner-up honors, she had planned to use her momentum to move to the big leagues and pursue the title of Miss Oklahoma the following year. But within that year and her entrance into college, Davis began thinking about the awesome responsibilities of holding such an important position and being a role model for many other young women who might want to pursue competition in pageants.
She was only 19 and in her heart was aware that she knew too little about life to hold such a position. She instead decided to focus on college and allow time and experience to bring her to a place where she felt she was the best person for that role and potentially for Miss USA after earning that honor.
Growing
While growing into that person, Davis continued battling her depression, and much like Cinderella's stepsisters who did everything in their power to hinder the happiness of Cinderella, depression played the same role in Davis' life. Although her illness did play a role in her decision to not compete during her years in college, it also allowed her the time to continue growing as a person. This is something she knew she needed to do before competing for Miss Oklahoma.
Depression, however, did not present such a positive outcome on her college career and would cause her several issues, prolonging her graduation by one year. Her mental battles play into this modern life fable because of Davis' desire to overcome it by staying true to her desire and focusing on achieving her goals much the same way as Cinderella did after her dress was destroyed by her stepsisters.
As a proud Native American and "Okie," Davis has shown the spirit of the Native peoples and their unwavering desire to continue and prosper. She pushed through, pursuing her passion for film and media while in college and continuing to grow into the person she felt would be the best version of herself to be Miss Oklahoma.
Movies had always been her mental escape. As such, a career in the entertainment field seemed a perfect fit and became her third big dream to follow behind her second of competing for Miss USA. But she had to achieve her first, being crowned Miss Oklahoma. That dream that had lain dormant for five years was about to awaken, and awaken it did!
After graduating from the University of Oklahoma in 2019, she finally felt that she was at a point in her life where she was the person she needed to be to give the title of Miss Oklahoma with all of the wisdom and respect the title deserves.
In addition, as is often life, her aspirations in the entertainment industry were not as initially fruitful as she had hoped. And though discouraged, she believed that was a sign to finish what she had started with her pageant goals. With advice and support from friends and family, she overcame her discouraged and depressed outlook and began preparing to achieve her longtime goal. After much hard work and dedication, she achieved that goal in December of 2019.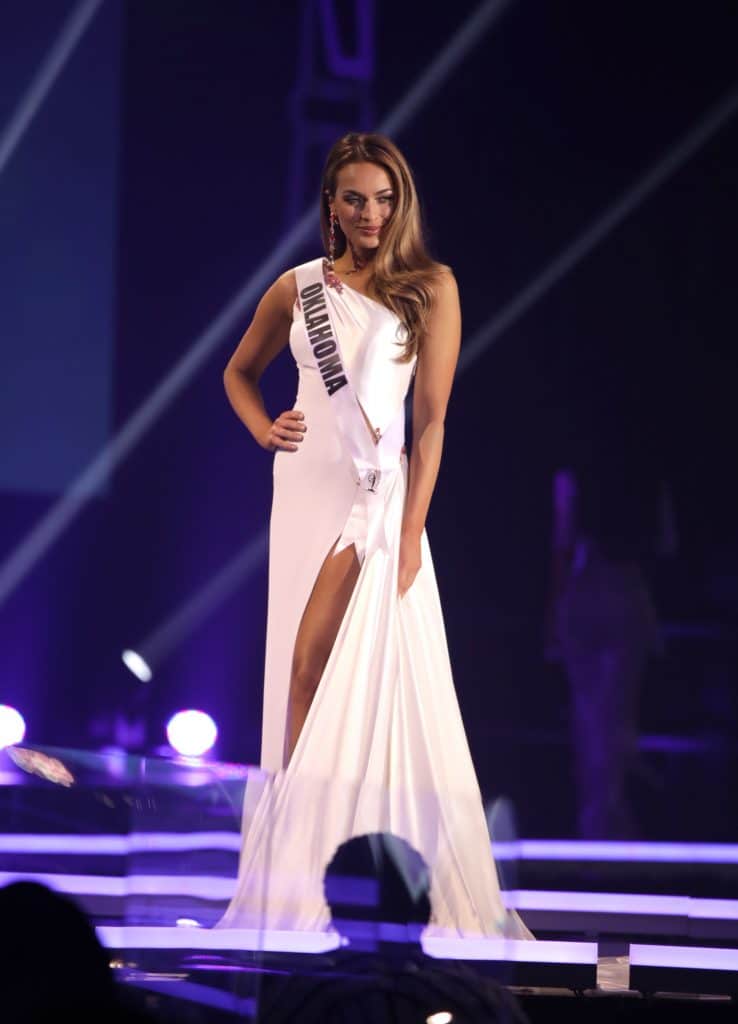 "Finally winning Miss Oklahoma was my first time experiencing a dream come true. At that moment, I could see years of having that dream, despite the obstacles, come to fruition," Davis said.
Almost a year later now, her reign soon comes to an end. And with that ending, Davis did pursue her second goal and recently took her one shot in the Miss USA pageant. She placed second runner-up. Although she did not take the crown, she certainly won the hearts of all those who have the courage and conviction to follow their dreams no matter where they lead and how they end.
Unfortunately, contestants are only allowed to compete once, and so, with this part of her life now behind her, Davis is looking forward to pursuing her latest dreams in the entertainment industry and modeling, ever hopeful where these avenues will take her.
"I'm hopeful and hungry. I've always had big dreams, and I plan to chase after every single one of them," she said. Currently, Davis works in reality television production in Oklahoma and continues working towards her dream of working in entertainment news.
A final parallel with the Cinderella story, I think, is the belief that there are happy endings for those who believe in themselves and are willing to accept the disappointments of life with grace. Like Davis, these are the people who are proud to wear worn-out sneakers while seeking glass slippers. And when the slipper fits, a happily ever after is soon to follow.